Saturday, 9th December, 2023
Catering to both sides of the morality divide this Christmas, we've a whole heap of pieces to get the festive period off with a bang!
Saturday, 10th December, 2022
For Christmas this year, the LGSW is SLEIGHING IT! Buckle up for the usual mix of Festive Fabulousness, Camp Christmas Choons and Seasonal Sensationalism...
Saturday 11th December, 2021
Now we have the taste for it, we're back with another live in-person concert, this time bringing you our traditional festive fayre. Bring on the mince pies!
Saturday 28th November, 2020
COVID-19 might have put paid to all our live concert plans this year, but we've not let that stop us! We pre-recorded a concert just before lockdown to watch in the comfort of your own home.
Our Spring concert is dedicated to the truly diverse types of folk music that exist out there; it's not all Morris Dancing and Lederhosen!
Saturday 21st April, 2018
From one art form to another, our music selection for this concert is one designed to make you move!
Saturday 22nd April, 2017
Sailing away with a concert connected to life on the ocean wave, featuring Wagner's 'Flying Dutchman' and Disney's 'The Little Mermaid'.
Our first ever wholly-family-friendly concert included timeless classics such as March of the Toys, Sabre Dance and Pixar Medleys.
The LGSW went abroad for our annual 'bandcamp', hitting Amsterdam with a concert of our finest crowd-pleasers, fitting in well with the end of Dutch Gay Pride Week 2015.
​
Saturday 25th October, 2014
Our 2014 Autumn concert celebrates some pieces which are usually associated with full string orchestras...showing that wind bands can have just as much impact!
Saturday 21st April, 2018
The second annual Christmas concert featured the likes of In Dulci Jubilo, The Snowman, and Selections from the Nutcracker Suite.
​
Saturday 8th December, 2012
Our first annual Christmas concert was held in support of London-based charities The Food Chain and Opening Doors London. Also featuring special guests Clare Summerskill and Will Davis.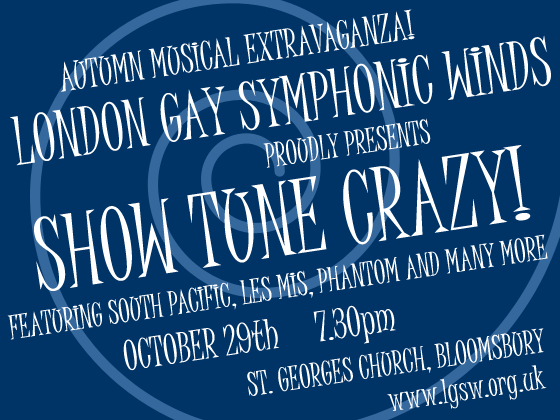 Saturday 28th October, 2011
Picking up songs and medleys from a wide range of favourite musicals and operas, including selections from South Pacific, Les Misérables, Phantom of the Opera and Fiddler on the Roof.
Saturday, 21st October, 2023
Our showpiece is Gershwin's Rhapsody in Blue. But it wouldn't be an LGSW concert without truly eclectic accompanying pieces! Danse Macabre, The Planets, and even Thriller make an appearance.
Saturday, 15th October, 2022
Some may call us Drama Queens, but we do love the theatre. And this concert is dedicated to all forms of theatrical magic, from ballet and opera to Shakespeare and musicals.
Saturday 16th October, 2021
We're back for our first in-person concert for over a year! We welcome everyone back to musical heaven with a mix of some of our favourite pieces from the past 10 years.
Saturday 14th December, 2019
It's that time of year, bringing classic, camp and traditional festive treats, served alongside mulled wine and mince pies!
Saturday 8th December, 2018
A festive collection of awesome favourites and new discoveries, in our traditional seasonal way!
Saturday 9th December, 2017
Our Christmas festival is doused with mulled wine, stuffed with mince pies and features Mariah Carey atop the tree...
Saturday 10th December, 2016
Our 2016 festive concert, dialling up the camp seasonal tunes and upping the sparkle.
Sunday 6th December, 2015
Our Christmas Cracker kicked off with the a broad mix of carols, fanfares, camp classics and pop favourites.
Saturday 18th April, 2015
Aiming our first concert of our anniversary year squarely at our geek friends, our spring concert features themes from Star Trek, Doctor Who and Game of Thrones...rounded off with some Mario!
The first ever LGSW Chamber Concert featured the best small groups from within the band's ranks, including a trombone ensemble, sax quartet and even a recorder ensemble!
Saturday 26th October, 2013
Playing tribute to some of the best arrangements from Film and TV tunes from past and present, including Harry Potter, Star Wars, Aladdin and Murder, She Wrote.
AROUND THE WORLD IN 80 MIN
Saturday 13th October, 2012
A truly international concert, focussing on some of the best wind band music from around the world. A global treat taking the audience to France, America, Japan and Africa.
​
Saturday, 29th April, 2023
To celebrate EUROVISION COMING TO THE UK (!!), we have a glorious programme of pieces with all the European flavour you could wish for.
LOCATION LOCATION, LOCATION!
An international flavour to get us all out of the Lockdown funk from the past two years. Something for everyone, but with a global sparkle!
Saturday 19th December, 2020
In keeping with the COVID restrictions, we were able to record a socially-distant Christmas concert to continue our annual mission of making the Yuletide Gay, broadcast on Youtube. Ho ho ho!
Saturday 12th October, 2019
It's curtain up and lights down for some firm favourites from the realms of theatre and film. Jazz hands at the ready!
Saturday 13th October, 2018
After acquiring enough XP, our popular Geek concert is back for another monster evening of music from TV, film and video games...
Saturday 7th October, 2017
LGSW put on their finest tiaras and roll out the red carpet for a whole concert on all things Royal.
Saturday 8th October, 2016
An evening of music designed to evoke the seven deadly emotions: Wrath, Envy, Lust, Greed, Sloth, Gluttony and Pride.
Saturday 10th October, 2015
To celebrate the tenth year of the LGSW, our autumn concert featured some of our favourite pieces we've ever played, along with some of our previous players and conductors making a cameo!
Saturday 13th December, 2014
Our third annual Christmas Concert fused traditional and not-so-traditional pieces, including Prokofiev's Troika, Leroy Anderson's Sleigh Ride, and Selections from Home Alone...
Saturday 21st April, 2018
The LGSW has members from both sides of the pond, and we celebrate that in this concert with pieces from composers notable in the UK and the US alike.
Truly getting into the Spring spirit featuring music from Sousa, Copland and Wagner. All played alongside a concert fete with homemade cakes and biscuits, jams, jellies and chutneys!
Saturday 24th March, 2012
The Last Night of the Proms coming early, with LGSW celebrating the best of British! Featuring folk songs, The Beatles, Freddie Mercury and, of course, finishing up with Rule Britannia.